Slip-N-Sip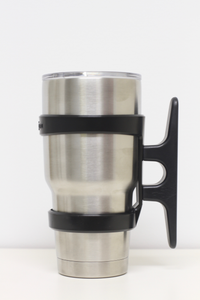 Introducing the Slip-N-Sip! Cleatus Cups' newest product!  Slip on our patented boat cleat handle and grip your favorite 30oz tumbler with ease!  BPA free and fits most 30 oz tumblers! Black cleat handle on black tumbler sleeve.
Virtually indestructible, Cleatus Cups™ Slip-N-Sip should not crack, melt, shatter, or chip under normal wear and tear.  We will replace them free within five years of purchase if they fail.

Slip-N-Sip is dishwasher safe.  Do not microwave - stainless steel screws attach the cleat handle to the sleeve body. 
Cleatus Cups™ products are "MerMade in America". Our manufacturing facility is located in Mooresville, North Carolina. We are "tied to American pride."