For Fathers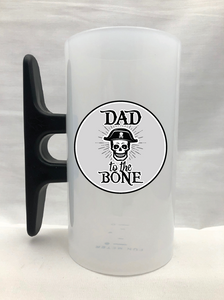 The Cleatus Cup™ is a unique water/boating themed drinking mug. An ingenious example of repurposing, Cleatus Cups™ are the perfect vessel on or near the water, when tailgating, or during any of life's celebrations. If you're drinking from anything less .... you gotta ask yourself why. These might be the coolest cups known to man, but unless your gripping one filled with your own favorite beverage, you'll never know. Our version of the redneck beer glass, saltwater style! This unique beer mug is for the angler who has it all. No fisherman or water adventurer should be without one!
SPECIFICATIONS -
Using a patented six-inch boat cleat as a handle, Cleatus Cups™ are 6½ inches tall, 3½ inches wide, and hold twenty-four ounces of your favorite beverage.  The "Fun Meter"™ is visible through the bottom of the cup (while looking down into the mug) to gauge your good times and warn you when you're running low. These unique beer mugs are made out of food grade plastic (body) and ABS plastic (cleat). Cleatus Cups™ are BPA-free and safe for use with all beverages. Cleatus Cups™ are dishwasher safe; however, to protect the printed finish, it is recommend that they be washed by hand. Cleatus Cups™ are not microwave safe due to the use of stainless steel screws in the handle.
FIVE-YEAR WARRANTY - 
Virtually indestructible, Cleatus Cups™ should not crack, melt, shatter, or chip under normal wear and tear.  We will replace them free within five years of purchase if they do.
MADE IN AMERICA -
Cleatus Cups™ are "MerMade in America". Our company is family owned and our manufacturing facility is located in Mooresville, North Carolina. We are "tied to American pride".